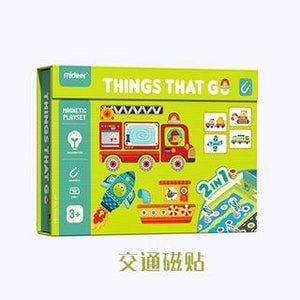 Each magnet is made from laminated UV film, paper & soft magnet, durable and no unpleasant odor. Each refrigerator magnets is smooth and comfortable to grip and hold, no burrs, safe for little hands. 
While doing the magnetic puzzles, Children can develop their imagination, combination hand-eye coordination and cognition. And they can also learn some transportations and traffic rules. The kids board games can cultivate children's logic thinking skill. It's a great Educational Toys.

These toddler magnets not only can be put on magnetic board, but can be put on a lot of home appliances. For exapmle, fridges, microwave ovens and washing machine.The magnetic toys for kids ages 4-8 is a great gift choice for birthday and Christmas.
Add to Babylist