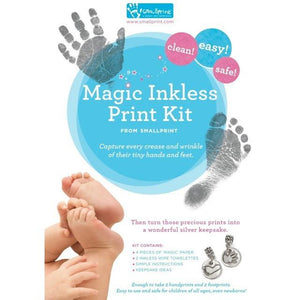 Smallprint, the original silver keepsake company is proud to launch its brand new Magic Inkless Print Kit on to the Amazon marketplace.
In keeping with Smallprint's reputation for innovation, the Magic inkless Print Kit now gives you the chance to take your child's precious hand and footprints in the comfort of your own home, helping to capture every crease and wrinkle of their tiny hands and feet.
Those treasured prints can then be turned into wonderful mementos, announcements, keepsakes and much, much more.
The kit comes complete with magic paper, inkless wipes, instructions, and countless keepsake ideas. Fun, easy and safe to use, kits can be used on children of all ages including newborns.
Now beautifully packaged and available to purchase online, Magic Inkless Print Kits are perfect for use at home, or even in hospital on the day your baby is born. With a £9.99 price tag, the Magic Inkless Print Kit makes a perfect, affordable gift for mums-to-be, new parents and baby showers…or make that family's Christening even more special with a unique handcrafted gift!
Add to Babylist