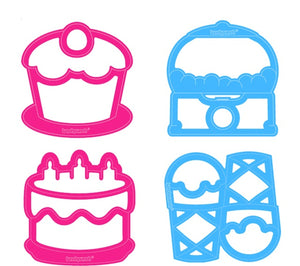 The Lunch Punch® is a food cutter specifically designed to capture the most amount of bread when it cuts the crust off your sandwich: a fun lunch with minimum waste. The Lunch Punch® is taller than cookie cutters, making it easy to cut through two pieces of bread and spread while still keeping sandwiches light and fluffy. Plus, The Lunch Punch® is kid friendly and dishwasher safe.

Great for sandwiches, toast, cakes, cookies, fairybread & more!

Made of fully ABS FDA-certified food grade plastic

BPA-free, lead-free, mercury-free, phthalate-free!

Kid friendly, diswasher safe and fully recyclable
The Lunch Punch® was invented by a mother of 3 young children to make lunch more fun for everyone. As every parent knows, it's a daily challenge to make a healthy and appealing lunch that kids will eat. Sandwiches are a mainstay in children's diets, but they're so boring and kids don't like the crust. The Lunch Punch® cuts sandwiches into fun and interactive shapes while cutting off the crusts. 
Add to Babylist